This means that finding the most cost-effective option for designing control panels is a top priority. But beware! Using multiple platforms for design, documentation and component selection is unlikely to give good results. Inconsistency and complications are certain to arise.
In contrast, working with a single unique platform that hosts all of your data can pay dividends by shortening each development stage. That's why the EPLAN Platform includes a comprehensive set of key engineering solutions. They are fully integrated to ensure consistency – and it's consistency, alongside transparency and dependability – that leads to project success.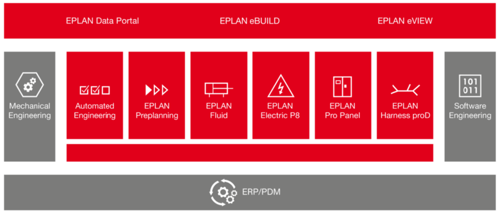 The full EPLAN Platform for integrated and consistent workflow.
If you are in the business of engineering and control cabinet manufacture, you'll most likely be looking at adopting Industry 4.0 philosophies. A single data-driven system like the EPLAN Platform will help you along the way, supporting your projects from the earliest design stages and all the way through to maintenance and refurbishments. No information gets deleted or lost and, most importantly, all changes in design are accurately recorded and time-stamped for future viewing.
Achieving consistency and right-every-time documentation is easier and more affordable than you think. Our study whitepaper goes through the benefits of using the best platform on the market and shows you how to make the most of the system. Simply download the whitepaper below, we know you'll enjoy the read!