You want to further optimise your engineering. That's why you are switching from a production-oriented to a more functional, modular approach. This also means a new way of drawing, and that's where the snag lies: these functional schemes make people on the shop floor even less cheerful than they already were.
3D virtual prototyping
Before you invest in a thorough standardisation of the engineering process, it is better to first ensure a better digital collaboration with the panel building department. With 3D virtual prototyping, your engineers can provide panel builders with exactly the information they need to build the cabinet. This provides a solid basis for further optimising the engineering process.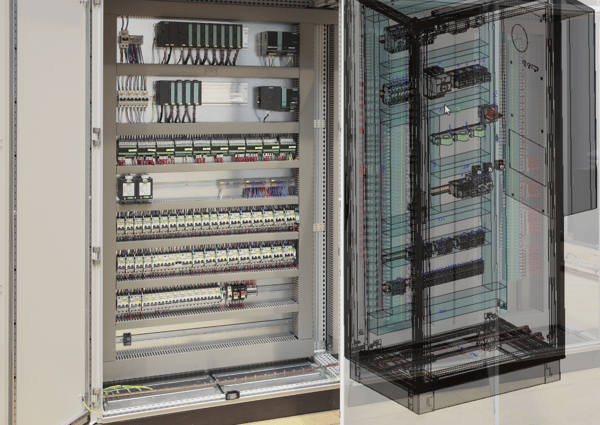 A control cabinet half photograph and half virtual prototype.
The panel building checklist for engineers
What does the panel builder need from your engineers to build the cabinet? Let us get this straight for you:
Full parts lists

Mechanical top panel

Drill cartridges

Saw strips for threaded sleeves and mounting rails

Overview of the construction of the panels

Resopal and device codes

Wiring lists
A good software package for virtual prototyping can effortlessly export all this data to the right digital format. 3D virtual prototyping is essential for the standardisation of your products to functional modules. It is therefore crucial to include 3D data of the components in this standardisation.
Standardisation
Standardisation goes beyond safeguarding legal guidelines in your systems, design methods and processes. You can also make your own appointments, for example, structuring products in reusable modules so that engineers from different disciplines speak the same language. Standard IEC 81346 provides a clear basis for such structuring.
If you want to engineer efficiently, you can't ignore such a modular structure as there is simply no time to engineer every project from scratch. By capturing your engineers knowledge into centrally managed, intelligent modules, they have more room for new developments. In addition, standardisation will make it easier for different engineering disciplines to engineer in parallel with each other.
3D virtual prototyping is essential for the standardisation of your products to functional modules. It is therefore crucial to include 3D data of the components in this standardisation.
Design methods
Standardisation is the foundation for a certain design method that has to fit in with this. How can you significantly reduce the engineering work and turnaround time for a project? What is the most efficient way to design? By making multidisciplinary agreements about definitions and structuring in advance, you can bring a large part of the development forward. For the planning, this means that the different disciplines can work on a project at the same time, without a lot of extra communication. Not only will your engineers be ready sooner, you will also reduce the risk of errors.
In general, you have a choice of three design methods:
In this phase, all available project information is collected and stored in a structured manner, so that it can be used as a basis for further detail engineering.
Ideal for generating electrical diagrams of standard machines or installations with options and variants because the products often have many similarities, the modules can be larger.
Compose machines or installations with a configuration tool. Ideal for generating projects with a wide range of functionality, many options and variants, complex dependencies and for multiple disciplines because each project is different, the modules will be smaller to promote their reuse.
At first glance, it may seem like a matter of 'automate first and then configure'. I prefer to see it as a strategic choice for either. What is your company good at? Standard' products or project-based 'specials'? Choose the design method that best suits your needs. Automate or configure, or perhaps a combination of both?
Do you want a clear view on the optimisation of your engineering and the co-operation within the chain? Download the free white paper.