The revolutionary concept of Industry 4.0 is changing the way we think and work in the food and beverage industry. It is pushing the manufacturing industry as a whole, and the food industry in particular, towards even greater standardisation, digitisation and automation, supported by the networking of different production systems.
The latest and most sophisticated Computer Aided Engineering (CAE) software enables the most tedious manual design functions in electrical, fluid, P&ID engineering to be carried out automatically and instantaneously. As a result, contractors benefit from increased productivity, reduced project turnaround times, improved product quality and safety.
Reluctance to change - Objections
Companies are sometimes reluctant to change, believing that their current methodology works and that implementing a new system will, at least initially, reduce their productivity. However, this is rarely true, as the biggest reversals occur when companies see the shortcomings of their existing design software package and decide to switch to innovative CAE software.
In the food industry in particular, flexibility and speed of reaction to changing market requirements are a top priority. Today's consumers are more demanding, which is why more and more new varieties and flavours are being developed using highly sophisticated production technologies. It is therefore essential to be able to adapt/modify machines quickly, which leads to a proactive planning of electrical studies/projects, in order to respond very quickly to these new requirements.
Standardisation - an essential step
Developing a consistent and close standardisation strategy with machine manufacturers at the design stage is an essential step. Being able to transfer standard symbol files directly to suppliers saves considerable time on projects. In this respect, EPLAN solutions provide a number of functions for the generation of company-specific standard schematics, thus meeting one of the most important requirements.
"Ritter Sport GmbH & Co KG, manufacturer of chocolate bars, explains: "We determine the representation format in the schematics and also specify, for example, which contactors or controllers are to be used. In this way, we can reduce the storage costs for spare parts and be sure to receive standardised documentation".
In addition to accelerated planning and optimised availability, this also reduces retooling times and machine downtimes. "Ritter Sport" is firmly convinced that careful and up-to-date documentation of diagrams is the key to reliable and trouble-free production. Another important factor in minimising downtimes is EPLAN's ability to automate cross-referencing, device identification labelling, etc., among other things.
PLC integration - Simplification guaranteed
In order to be as close as possible to consumer expectations, principals must use state-of-the-art production technologies. In addition to well-established PLC technology, there is also fieldbus technology. PLC programming is usually carried out in-house. EPLAN solutions enable bidirectional transfer of addresses and mnemonics directly from the programming tools of the PLCs. This considerably simplifies the exchange between the electrical and automation engineering teams and saves time in particular. The flexible structure of the address definitions makes it easier to organise maintenance work, for example, giving a clear overview of the entire system.
Automated line for the production of plastic bottles for water and beverages.
CAE of the future - more performance
The advantages of implementing EPLAN are obvious:
Higher performance with fewer engineers working on low value-added topics.

Simplified communication with external system integrators

High quality documentation

Completion of all projects on time and within budget
In order to compete globally, the challenge for contractors is to keep pace with the market, and this can only be done with state-of-the-art tools such as those from EPLAN.
In concrete terms, how does the Industry 4.0 concept apply in practice in a food production environment?
Traditionally, the "typical" workshop in a factory comprises equipment from different manufacturers, each element performing a specific task in the production process, and all managed and controlled by a dedicated team. Each member of the team needs a common communication channel between them and the machines.
Industry 4.0 provides the solution to this challenge of interconnectivity and interoperability by making the most of automation strategies and dramatically improving machine-to-machine (M2M) communication, as well as providing much more detailed data for those who operate the plant. This ensures fewer errors, less downtime, higher productivity and increased efficiency.
But Industry 4.0 is not just an operating strategy; thanks to its large data capabilities, intelligent plants also meet the traceability and validation requirements imposed by official state organisations or "trade" federations.
Industry 4.0 can also contribute to achieving plant availability well above 99%. In the event of a system failure, dual and redundant IT layers, specified in accordance with Intelligent Factory procedures, allow production to resume in minutes instead of hours!
In short, Industry 4.0 means machines that communicate efficiently with each other and with their users, and better, more reliable record keeping. It encompasses communication and networking strategies that meet today's demands for efficiency and lean production in food and beverage companies around the world.
The EPLAN software platform puts collaboration, standardisation and automation at the centre of its focus, providing a large number of industries and organizations with all the essential functions required of an electrical/lean/P&ID design software package within the framework of Industry 4.0. In order to meet a variety of engineering challenges, EPLAN Software & Service offers a complete range of solutions, from project sharing in the cloud, electrical to fluid engineering, as well as P&ID processes to the design of harnesses & cables and 3D-modelled switchgear cabinets/rack enclosures.
To find out which solutions are best suited to your industry, visit our online animation now: https://industries.eplan-software.com/
EPLAN Software & Service: A leading international player in electrical engineering
EPLAN Software & Service is one of the world's leading service providers for the development of CAD/CAM, configuration and mechatronics solutions. The company also offers consulting services for the optimization of engineering processes. Standard and customized interfaces to ERP and PLM/PDM systems ensure the consistency of data used for product development, order processing and manufacturing. Our success in the engineering field is due to consistent customer orientation, international support, innovative development capabilities and in-depth interface expertise. As a global player, EPLAN supports more than 55,000 customers worldwide with more than 173,000 installations with outstanding product quality and maximum efficiency.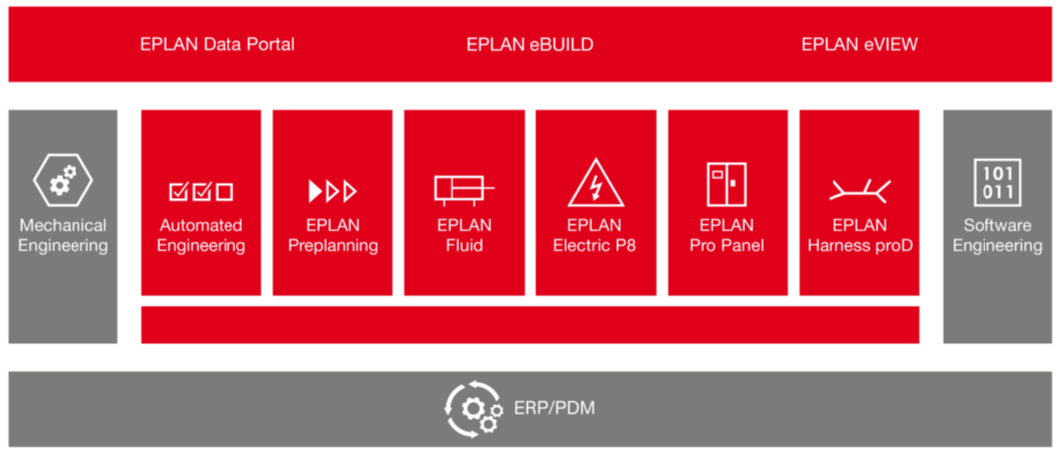 The full EPLAN Platform.
Case Study Reference: Coca-Cola Enterprises
Coca-Cola Services in Anderlecht (Belgium) is the second largest innovation centre in the world working on new products, packaging, cooling equipment and quality systems. Coca-Cola Services is a subsidiary of The Coca-Cola Company that owns the Coca-Cola brands, markets to consumers and sells the basic concentrates to bottlers.
These local bottlers - Coca-Cola Enterprises Belgium (CCEB) and Coca-Cola Enterprises Luxembourg (CCEL) are subsidiaries of Coca-Cola Enterprises Inc. With 2,536 employees (2012), CCEB and CCEL are among the largest bottlers within the Coca-Cola Company. Both production sites have to respond closely to the needs of the local market in terms of volumes, packaging, innovations and products. To meet these challenges, maximum flexibility is a must. Coca-Cola Enterprises (CCE) achieves this through a thorough harmonisation of its production process in the various countries and plants in which it operates. A process in which EPLAN plays an important role.
Optimising the product package
"We work with a very local market approach, tailored to the local consumer, and our challenge is to respond flexibly in our production environment," says Dirk Lembrechts, Automation Engineer at Coca-Cola Enterprises Belgium. "The solution lies in optimising our production equipment. Each production unit has its own engineering department, which is responsible for the improvement processes. This is all the more necessary on a European scale. The production processes achieve maximum flexibility when all European sites work together in the field of engineering.
Today, European harmonisation at Coca-Cola Enterprises is a fact. Their European production equipment consists of universally deployable machines and plants that also have a longer service life.
Each machine, filling and production line is built modularly according to the same standards, making the machines perfectly interchangeable.
What the customer needed: EPLAN standardisation
In order to make this European cooperation a success, Coca-Cola Enterprises has created well thought-out technical standardisation at three levels.
Level 1: Industrial network and communication standard that determines which equipment and protocols are used for communication between the participants, IP addressing and the format of the input data.
Level 2: Monitor at any time the condition, performance, defects and shortages of all European production lines, putting an end to the great proliferation of machines and components that greatly facilitate maintenance, stock management and training of maintenance technicians
Level 3: The EPLAN standard: Coca-Cola Enterprises wanted a universal engineering platform that met three criteria (have the right functionality, be able to translate automation standards seamlessly into designs, have a strong market position so that all suppliers can carry out projects in the chosen engineering platform without problems and at no extra cost).
The EPLAN standard is a dynamic document that is constantly being revised, which is as necessary as the technologies. Needs, techniques, etc. are constantly changing. By using EPLAN, the standard is always up to date, and thus documentation management is optimal.
Minimising downtime
All diagrams are at the center of a server. EPLAN View enables technicians and engineers to view the documents with up-to-date information. In the event of a breakdown, no more time is wasted searching for the right schematics or components. With just a few clicks, the required documentation appears on the screen so that technicians are immediately ready to intervene at the workplace, reducing machine downtimes to a minimum.
Discover more about our EPLAN solutions and their ability for seamless interfaces for cross-company and cross-process system landscapes: