The beta version has been launched, we've received feedback from the first testers and the release of version 2.9 is just around the corner. Let's take a look at some of the key features you can benefit from in future projects.
Faster and easier: QR codes
QR codes can now be generated directly in version 2.9. Users can store hyperlinks in their documentation which can be scanned and opened via an app on a mobile device. This applies to both internal and external links, removing the need for tedious typing. These QR codes also work with printed documentation, which is still both faster and easier than typing.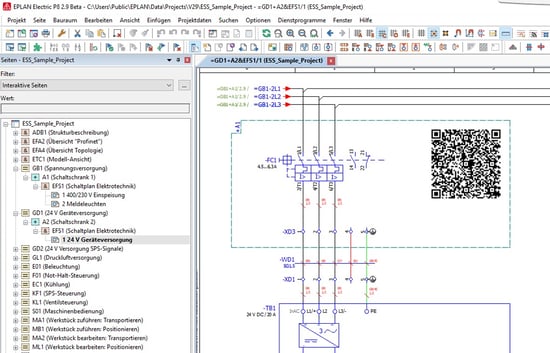 In version 2.9 of the EPLAN platform, QR codes can be generated which, for example, allow a link to the component in the EPLAN Data Portal.
Docked: The level management
Layer management is easier than ever before as a dockable dialogue because all changes are now saved automatically. Additional functions round off the new layer management, including searching for layers and changing their attributes. From now on, an object can easily be searched for as it will have been assigned a certain level in a project or subproject. Subsequently, designers can change the attributes of a searched layer in the search result list via the properties dialogue of a found object. Layers that have been added to a project via DXF or DWG import can be found quickly, changed easily or used as user-defined layers.
Get to your destination quickly: Navigator display
In the previous version of the EPLAN platform, the list display of macro navigators were converted into a table that could be easily edited. With the new version, this function has been expanded to include other navigators, such the Device Navigator, the PLC Navigator and the Wire Navigator. This is a powerful practical advantage, because from version 2.9 project data can be edited in bulk and in no time.
Speaking of macros: Once a macro project has been completed, standardised macros can be inserted into other projects from the macro navigator using drag & drop. Of course, this also works within the macro or circuit diagram project in which the user created the window and symbol macros. This is a clear time advantage because the previously cumbersome selection via the macro selection in the directories is no longer necessary. An additional plus: The data is reused, which also secures and increases the quality in the project.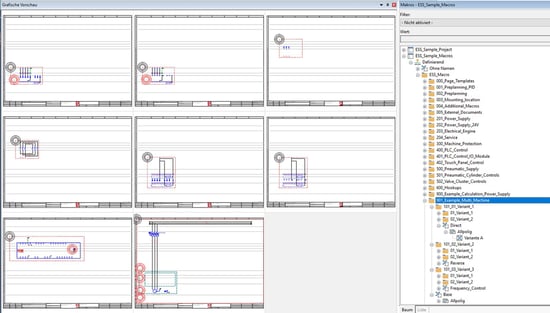 Macros can now be easily dragged and dropped into other projects from the Macro Navigator.
Cleverly configured: Property arrangements
With the new configuration dialogue, users can manage and edit user-defined property arrangements for symbols and 3D part placements easily. When configuring, you can now also check the use of customised property arrangements and easily delete unused ones. The context menu lets you quickly find the user-defined arrangements currently in use (menu item "Insert into list of search results"). With just another click you can then easily call them up (menu item "Go to (graphic)").
The advantages are obvious: All property arrangements in the project can be viewed at a glance. With the export and import of property arrangements for different circuit symbols, several arrangements can be processed at the same time. The new search function allows you to make modifications to comply with company standards even more quickly.
Translations: Extra clarity
Version 2.9 allows you to make multilingual entries for many properties and input fields in your project or in parts management. Users can then translate them manually or automatically into a uniform language, adding an extra portion of clarity. Fields in which multilingual input is possible are now identified by default with a standard icon in the user interface. How does this work? When the user enters text in a multilingual field, it is initially language-independent and remains displayed as it was input. For translation, the text is assigned to the specified source language.
Interested in finding out more? We're hosting a live webinar at 12:00 on Friday 28th February by where an EPLAN Engineer will discuss the new features of version 2.9 and you will have the opportunity to ask questions. Register here:
Alternatively, follow the link to discover more features of the update: