"Smart Engineering" for temporary power, heating and cooling solutions industry at Aggreko
Originally founded in the Netherlands in 1962, Aggreko, who is now headquartered in Glasgow, Scotland, has grown to become one of the worlds' leading global suppliers of temporary power, heating and cooling solutions for businesses and communities. The company now serves more than 100 countries and is present in more than 204 locations around the world.
The company provides solutions for customers across seven key industries: mining, oil and gas, manufacturing, data centres, utilities, events and construction. You may have seen Aggreko in action at high profile events which have included the 2019 Rugby World Cup, the 2012 Olympic Games and the 2018 Commonwealth games - held on the Gold Coast, Australia.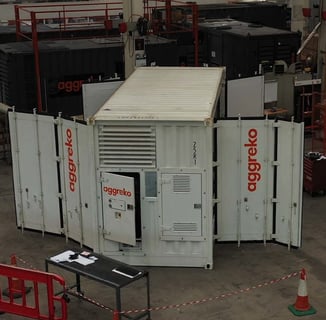 The challenge
Effective and seamless data flow and collaboration

between departments.
The Solutions
EPLAN Electric P8

EPLAN Pro Panel

EPLAN Harness proD

EPLAN Smart Wiring

EPLAN Data Portal
---
Supporting effective data flow and collaboration between departments
For its frequently complex multi-disciplinary engineering projects, Aggreko previously used a two-dimensional computer-aided design system together with a combination of Microsoft Word and Excel documents for electrical design. Aggreko wanted to reduce its product development time and the amount of time it took to design digital prototypes. The design team saw that a more efficient design process was a way of achieving this, so the company started looking for a seamless 3D solution that would increase the efficiency of its engineering design processes.
For help with this, Aggreko called on EPLAN. After the EPLAN engineers had carried our an initial audit of Aggreko's design processes, they proposed a solution that would support effective data flow and collaboration between departments. The key elements of this solution were EPLAN Electric P8, EPLAN Pro Panel, EPLAN Harness proD and EPLAN Smart Wiring. After considering the potential benefits, Aggreko decided to proceed with the solution EPLAN was offering to streamline their design process. Aggreko then purchased the relevant software licenses along with technical support, training and implementation packages.
---
Do you prefer video? You can watch the Aggreko video customer application here:
---
EPLAN Electric P8: at the heart of electrical design
EPLAN Electric P8 is at the heart of the solution adopted by Aggreko. It is an electrical engineering design software package that offers a comprehensive range of facilities for planning, documentation, and management of automation projects. Its key benefits include support for reusing design elements, which means that once developed, the same elements can be included in multiple projects. This not only saves time, but ensures consistency and minimises risk of errors. EPLAN Electric P8 also automates the production of documentation, which means that all those working on a project, whether they are involved with production, assembly, commissioning, testing or subsequent day-to-day operation, always have access to detailed and accurate information.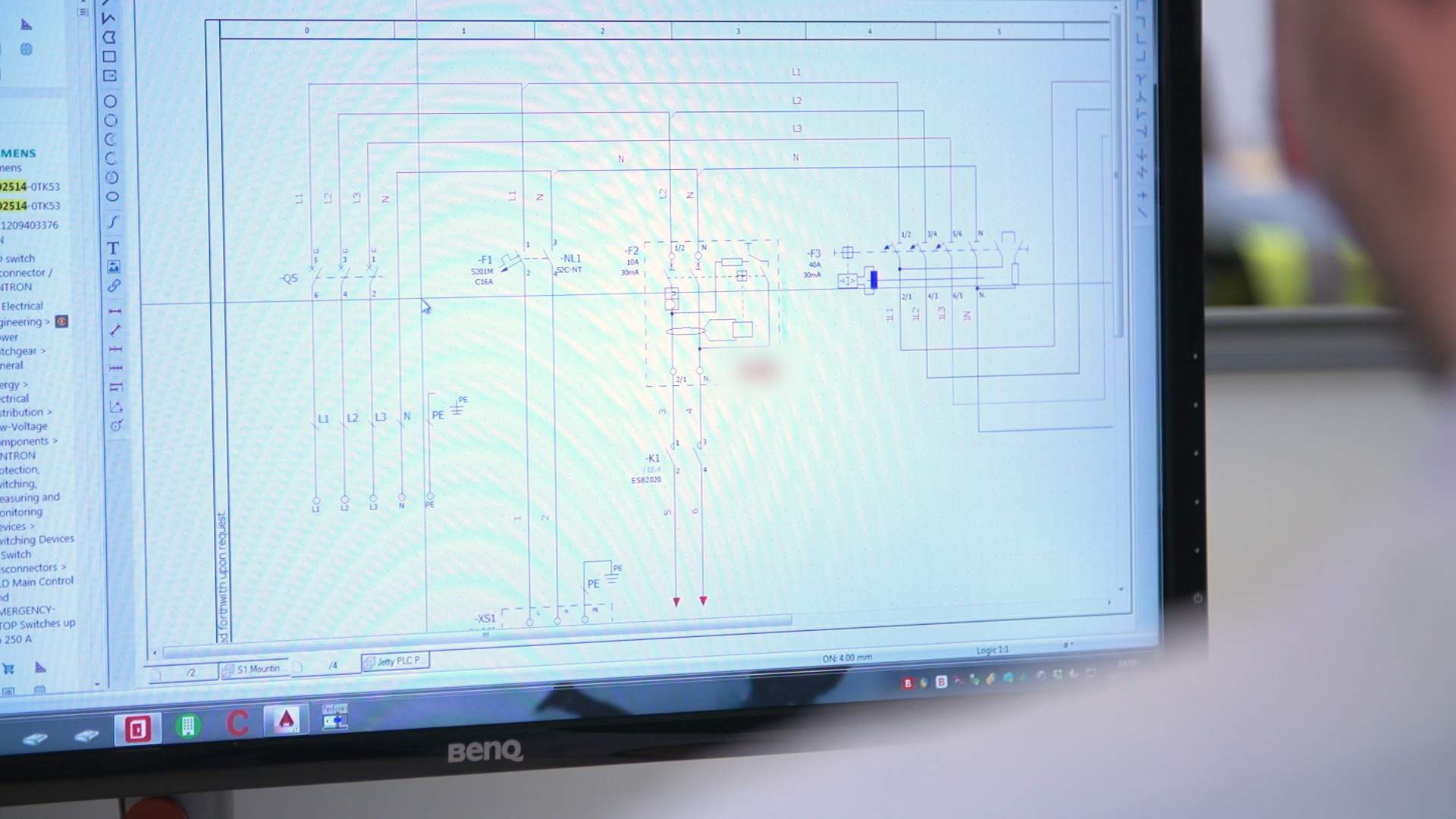 Created right first time with the Digital
Twin
EPLAN Pro Panel works in conjunction with EPLAN Electric P8 to greatly simplify the design of control panels. It has been developed with flexibility in mind and enables users to follow their own preferred design approach, whether it is based on equipment lists, connection lists or circuit diagrams. All necessary components can be easily entered and positioned on the 3D layout. As an added benefit, error detection and other aspects of consistent quality control are predefined at the development stage. Features such as collision control ensure that the digital twin is created right first time, making testing much easier and virtually eliminating the need for reworking.

"The biggest benefits of using the EPLAN products are faster, more accurate and more consistent designs. The software handles all of the routine and repetitive tasks - including the production of documentation - as well as speeding up the whole design process. This means that our engineers have more time to innovate and produce outstanding solutions
for our customers."
Graeme Shields, Lead Electrical Engineer, Aggreko
3D and 2D wire harness design
Aggreko also utilise EPLAN Harness proD, which supports efficient design and documentation of cables and wire harnesses in 3D and 2D. The system increases transparency and productivity, whilst reducing errors to a minimum. Ease of use, automated work processes, accurate manufacturing documents and high reusability are among the benefits for users. In addition, the wire harness design is not dependent on the availability of a mechanical prototype, which saves alot of time for the Aggreko design engineers.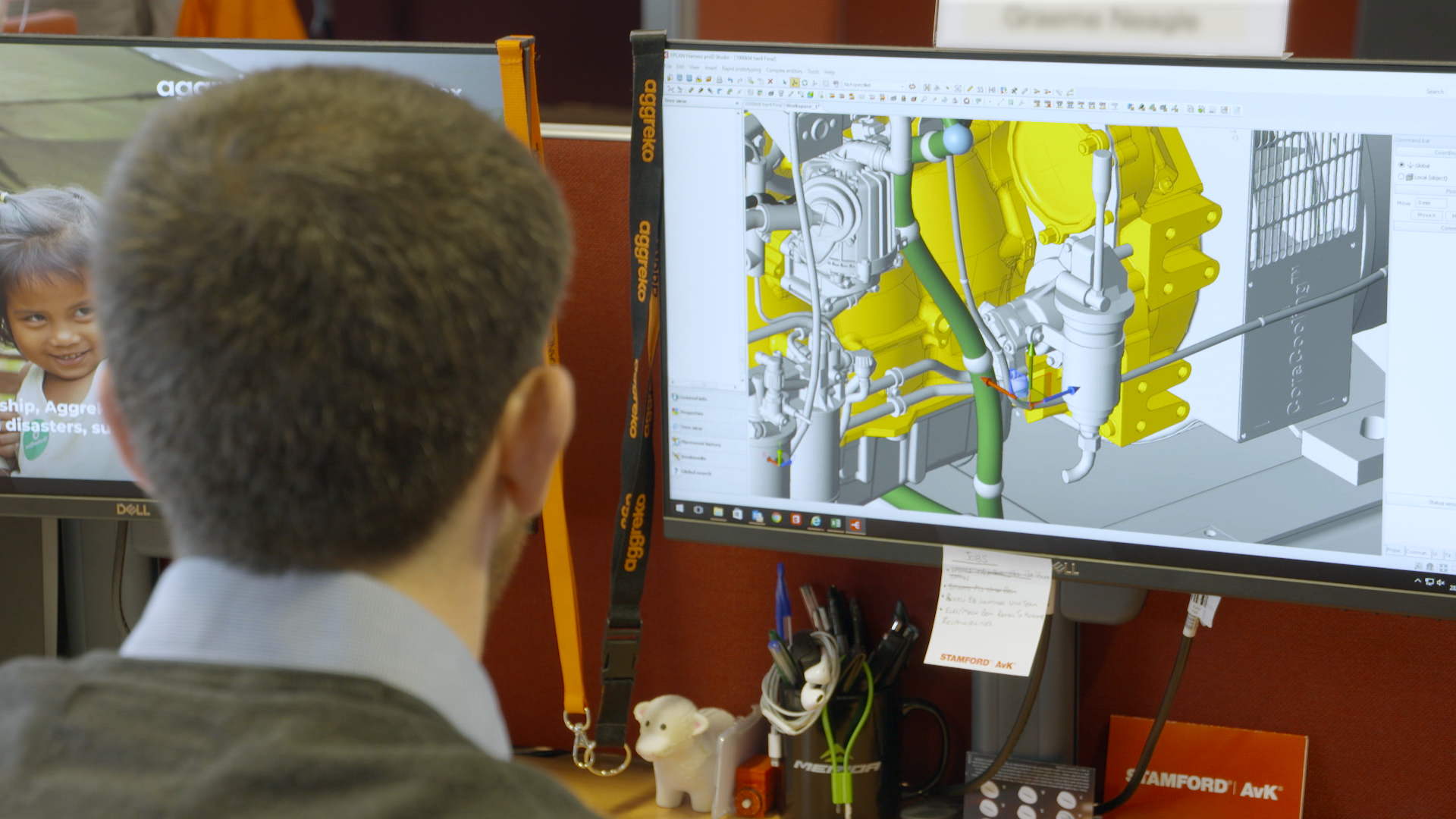 A versatile and powerful combi
nation of solutions
"When we started talking to Aggreko, the company's design processes could not directly communicate with each other: a multitude of different solutions were being used for the different elements of the design work, including 2D CAD, Word documents and Excel spreadsheets", recalls Tony Ward, Regional Sales Manager at EPLAN. "But we knew there was an easy way for this progressive and forward-thinking company to adopt the benefit from the Industry 4.0 integration ethos. And now we have delivered this solution through a versatile and powerful combination of EPLAN solutions".
Recently, Aggreko has also implemented EPLAN Smart Wiring, a system that visualises the wiring and makes all wiring data 100% digitally available. Thanks to EPLAN Smart Wiring, Aggreko's design engineers and panel builders are benefiting from a significant drop in error rates and substantial time savings. The benefits are particularly noticeable in relation to last-minute changes, as the software swiftly and reliably handles the complex task of comparing the project's new start with its previous baseline.
Virtual Prototyping
Aggreko also makes extensive use of the EPLAN Data Portal, a web-based resources that provides access to detailed component data on hundreds of thousands of electrical, mechanical, fluidic and pneumatic components. "Our two main goals when we started the conversation with EPLAN were to cut project design times and to ensure that the designs were right first time," Graeme continued.
"We've achieved both of these goals and, thanks to the virtual prototype approach used by the EPLAN software, our new design solution fits in very well with our Industry 4.0 goals. We are extremely pleased with the results and everyone in the design team has noticed the benefits."
---
Do you want to see the EPLAN software in action? Why not request a free demo and discuss with an expert which EPLAN solutions will deliver the biggest efficiencies not just for your team, but the whole business.