3D is better positioned to handle with project changes
Many people believe that it is quicker and easier to create 2D drawings. Yet as designs become more complex, integrating 3D with 2D yields clear benefits, especially in instances where flexibility and streamlined operations are required.
For example, it goes without saying that every project will require changes at some point – or to be more precise, at multiple points and at different development stages. Implementing changes therefore needs to be seen as an integral part of the workflow and not an unexpected and unwanted inconvenience.
For those working in 2D, making changes on-the-fly significantly increases the opportunity for errors to creep in. Then, when things don't quite fit together, the laborious process of retracing the steps commences. Design engineers have to figure out what was overlooked and how the errors can be fixed. This leads to delays, increased costs, and frustration for all those involved.
By contrast, using a 3D platform allows the consequences of all changes to be seen clearly and immediately, greatly reducing the risk of error. Further, modern 3D design platforms allow the updated drawings and associated data to be accessed at the click of a button. As well as members of the design team, all project stakeholders can see and approve the modifications in real time, which enables greater efficiencies. In addition, what's more, good 3D engineering platforms provide full traceability and transparency of the project evolution.
Let 3D take care of the tedious tasks through automation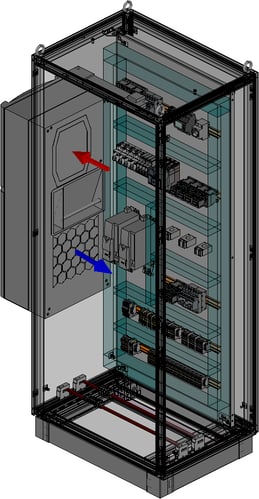 Another key benefit of modern 3D design packages is that they make it possible to automate a wide range of time-consuming operations. The creation of design documentation and bills of materials for instance can be completely automated, freeing up time for designers to attend to the important deliverables that require a lot of thought and know-how.
That is not to say that 2D data is completely unusable – it is a great start and is still an important tool for engineers, but producing original designs in 3D has more benefits. 3D data is richer and provides additional detail like accurate cabling requirements without the need for the manual calculations that are required when working with 2D designs. And it is worth remembering that 2D information can easily be extracted from a 3D project, but the reverse is simply not possible.
With 3D data, users have many more options to check for interference, perform simulations to assist with decision making (for e.g heat loss), build digital twins, and prepare data for automated manufacturing processes. By having the option to virtually test the design before it goes into production, the great majority of problems become apparent before work is started on building the panels.
3D enables better collaboration
Another advantage of using 3D platforms is flexibility of communication. Work instructions can be provided automatically, which means non-technically trained employees are able to carry out production work. For panel building this is an effective way to deal flexibly with staffing shortages at busy times. Moreover, 3D platforms enable easy collaboration with virtually anyone! They make sharing of drawings and designs seamless, removing the need for additional systems like spreadsheets, timetables, BOMs and other items that mean duplication of work.
Working with 3D software not only saves time because fewer mistakes are made, it also reduces the time it takes to build the panels. When the crunch times come (and they are just around the corner for many of us), adopters of 3D solutions will gain the flexibility they require without having to make any expensive staffing or system commitments – a 3D platform simply grows and expands as you need!
What's next?
Are you ready to explore 3D designing further? Download the free e-book and uncover 6 reasons why you cannot avoid 3D!