Automation saves time designing schematics
With a good CAE system like EPLAN Electric P8, engineers are able to design an element only once and produce a standard design containing all possible technical data in its value set. These are called macros. Once created and saved to the macro library, the macro can then be used as often as it is needed, and the CAE system will take care of all the details like updating the wire numbers and the component references. This means you no longer have to search through old schematics, thereby saving yourself precious time.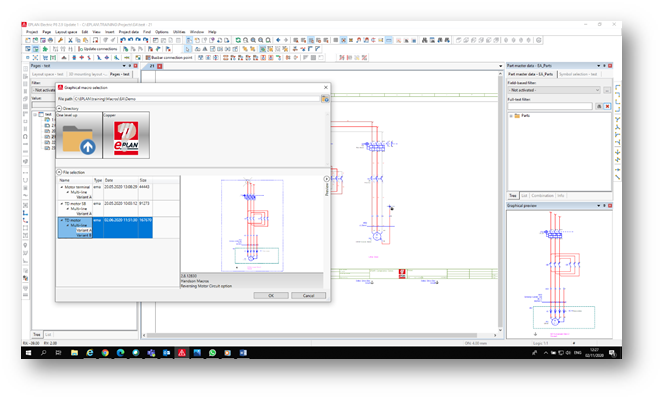 Selecting a macro from the macro library in EPLAN Electric P8.
---
­­­­­­­­­­­­­­­­­­­­­­­­­­­­
Macros and value sets can make your engineering process faster and more efficient. Learn more on how to use them in your designs here: https://blog.eplan.co.uk/smarter-engineering-with-macros-and-value-sets
---
­­­­­­­­­­­­­­­­­­­­­­­­­­­­
Other benefits of automating panel design
There are also two other less obvious benefits of automating panel design. The first is that once the design of the macro has been proved to work in previous control panels, it's guaranteed to be right every time the macro is reused. This reduces the risk of costly mistakes, both time and money, where items may have been incorrectly pasted from another project and even ordered by purchasing.
The second is that designs become much more standardised with only minor variations, no matter which engineer has created them. Whilst his may not matter from a functional viewpoint, it certainly makes maintenance and fault finding a lot easier. This long-term view gives the end user a reason why they should be buying control panels from you!
Selecting the right components
The best CAE systems will even help to streamline the process of choosing the components to use in your control systems by providing access to a database. The information is not only guaranteed to be up to date and comprehensive, it is also in a format that is ready for immediate importing into your designs.
The EPLAN Data Portal allows access to the product catalogues of hundreds of prestigious component manufacturers. Aside from the variety of data, another advantage of the new Data Portal is the quality of the data. The data standard, based on eCl@ss Advanced, supplements proven classification standards for device data and raises them up to a uniform, high quality. The Data Portal enables engineers to easily locate and place a component into their schematic, as well as, simply transferring component data straight in the Eplan documentation. This reduces the work for the project and, in the end, increases the quality of the machine and plant system documentation.
Locating and selecting a component from the EPLAN Data Portal is quick and easy.
Hopefully we've addressed the first objection to the adoption of automation in the panel building sector: control system design can be automated, and with big benefits, even if every panel is, in its entirety, unique.
Still not convinced? Why not download the free whitepaper 'The Year of Automation?' and discover more reasons why you should be automating your panel building, especially in uncertain times.