Static Forms
Static forms show reported data such as terminal diagrams or wiring diagrams individually on separate pages. The data is presented in a table with a constant row height, meaning that all graphics are the same on every report. Even if there is no data entry, all rows will still appear. For example, if a terminal rail only needs 10 terminals, the static form will show 10 entries, leaving the rest of the form unused.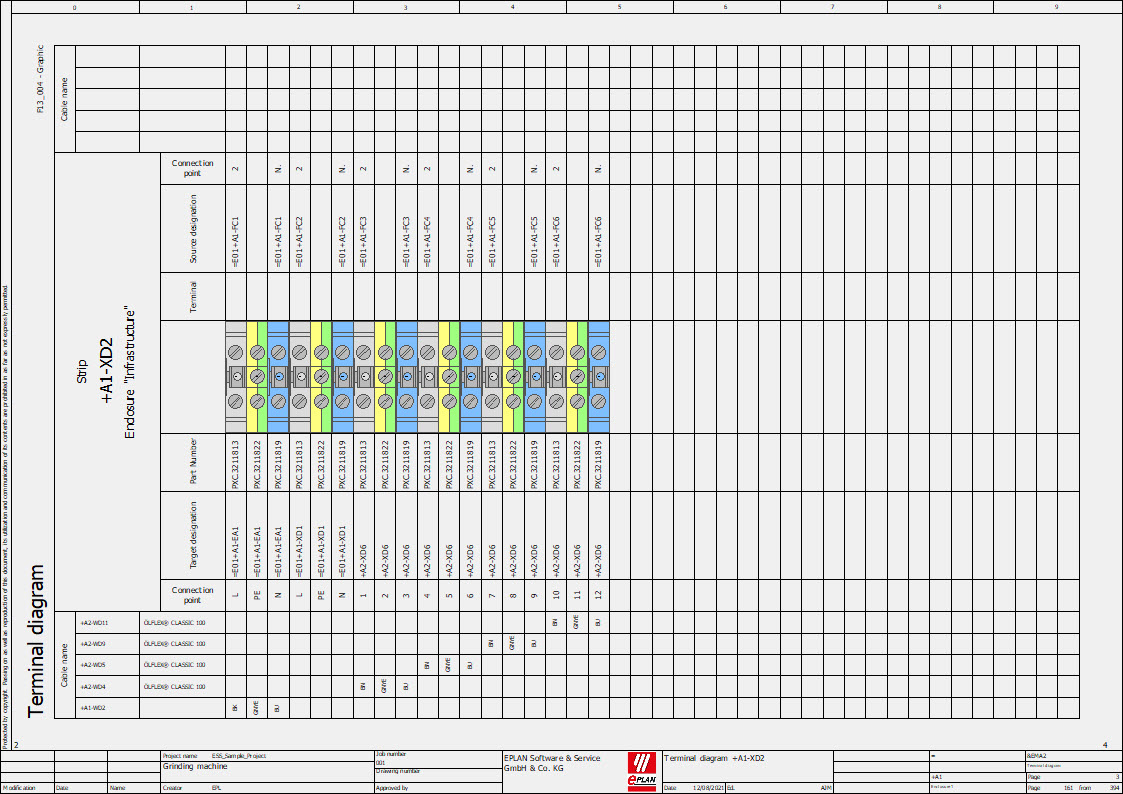 A terminal diagram as a static form report.
Dynamic Forms
In comparison to static forms, it is possible to insert so-called 'dynamic areas' into dynamic forms so that they can be adapted to suit the needs of the individual using them. The row height can be varied by activating the 'Adapt row height dynamically' form property, meaning that the more information inputted, the bigger the form.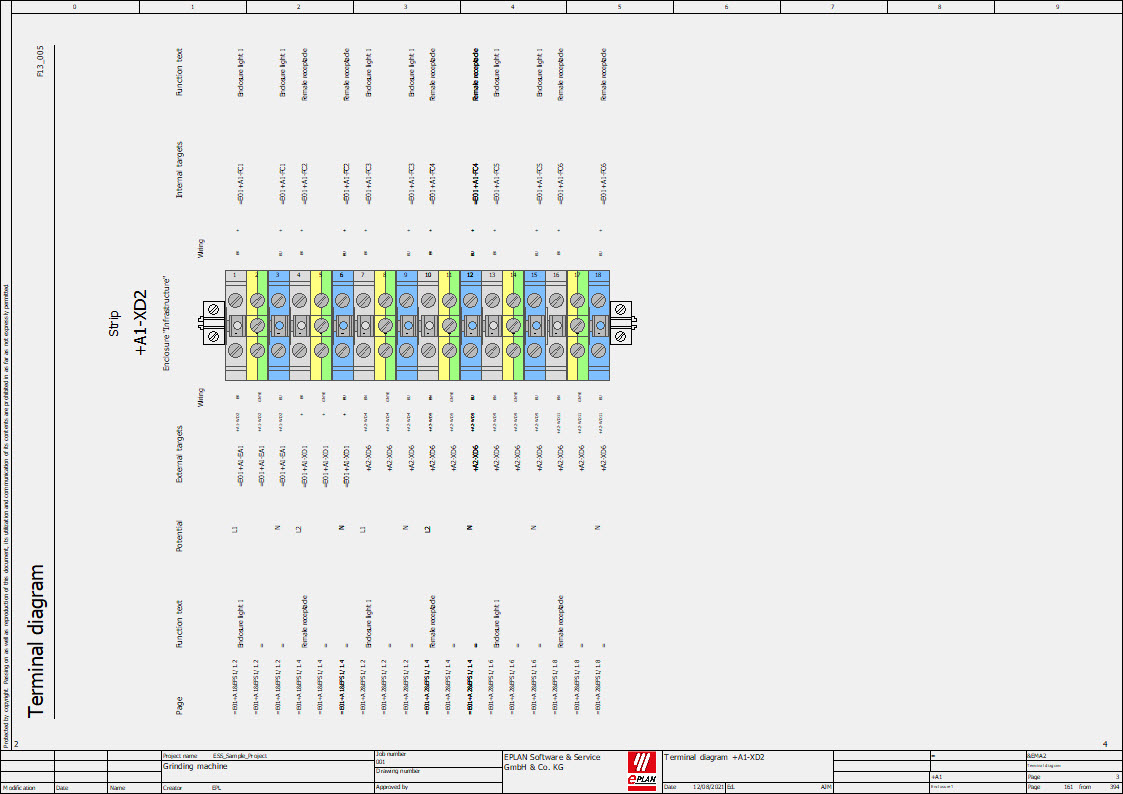 The same terminal diagram in a dynamic form report.
We are all too aware of how large projects and project documentation can become. Dynamic forms can be useful to condense projects by maximising on the number of pages used within a project. This is because in comparison to static forms, it is possible to combine reports of several functions on one report page. For example all the connections. The image below shows the terminal diagram and the number of parts on one page.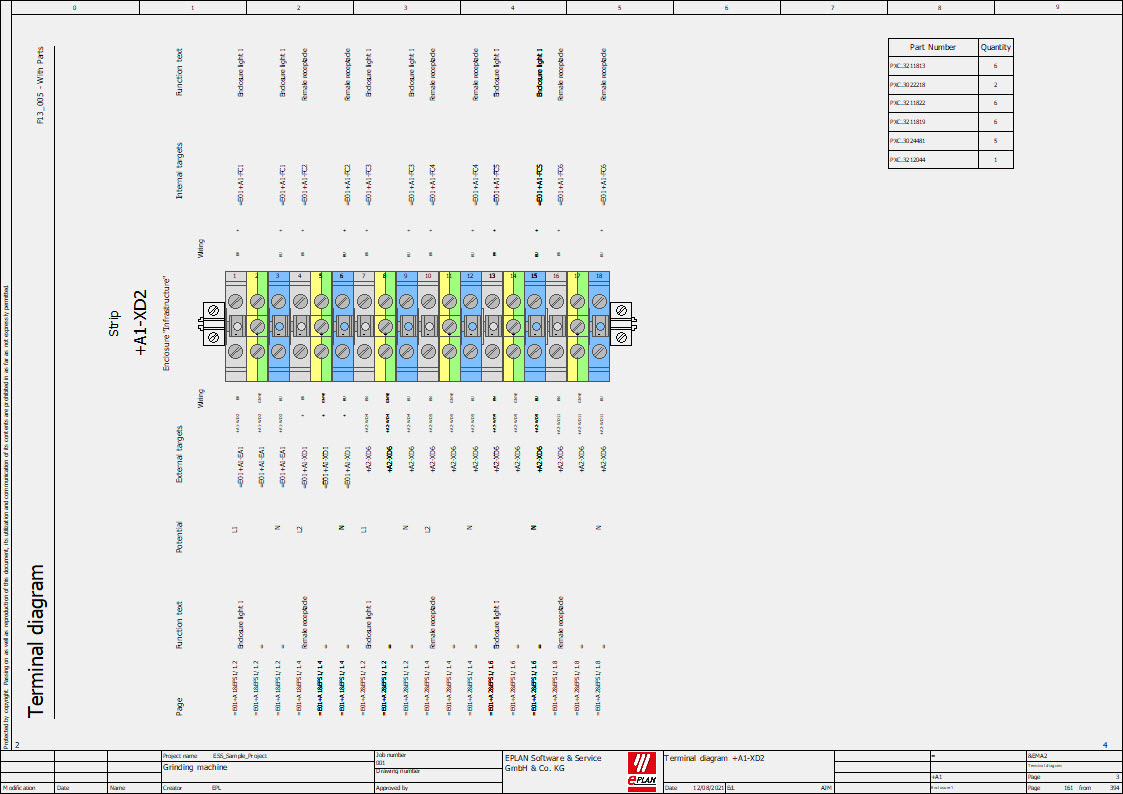 Utilising the page space by adding the number of parts to the terminal diagram using dynamic forms.
Conditional forms
As part of dynamic forms, it's possible to activate something within the forms to make it simpler to locate specific information or make forms easier to read. The EPLAN software gives you the opportunity to define 'subforms', which can be attached to conditions. For example, if you wanted to identify parts that are safety-related, the conditions could be 'if the parts is equal to XYZ, highlight the row in a yellow colour'. This would then produce a so-called 'main form' and 'conditional form' of the same type.
It is possible to create conditional forms for all function-specific reports, by where a function filter can be defined. However, there is the exception of connection point diagrams such as device-connection, cable-connection and terminal-connection diagrams, to name a few.
Using project filter in reports
Depending on the required information, each form type has its own benefits to individual stakeholders within a project. For example, the shop floor or commissioning may need a more detailed terminal diagram than the client. In most cases, individuals may require a combination of the various form types. The preferred form types for the documentation can easily be set up using project filters.
Project filters work as rules for when you are generating reports. If you set up a project property for your 'client', when generating reports, the software will check the project property. If it is equal to 'client', it will automatically bring through all the relevant forms which have been set up under that project property.
What's more, research shows that EPLAN users only generate the reports at a set point to finish the project and then give manufacturing a document set. But what if project filters were used at set phases in a project's lifecycle so that reports can be produced when they are actually required. For example, a bill of materials list can be generated earlier on in the process so that the parts that have a long delivery time can be ordered in advance.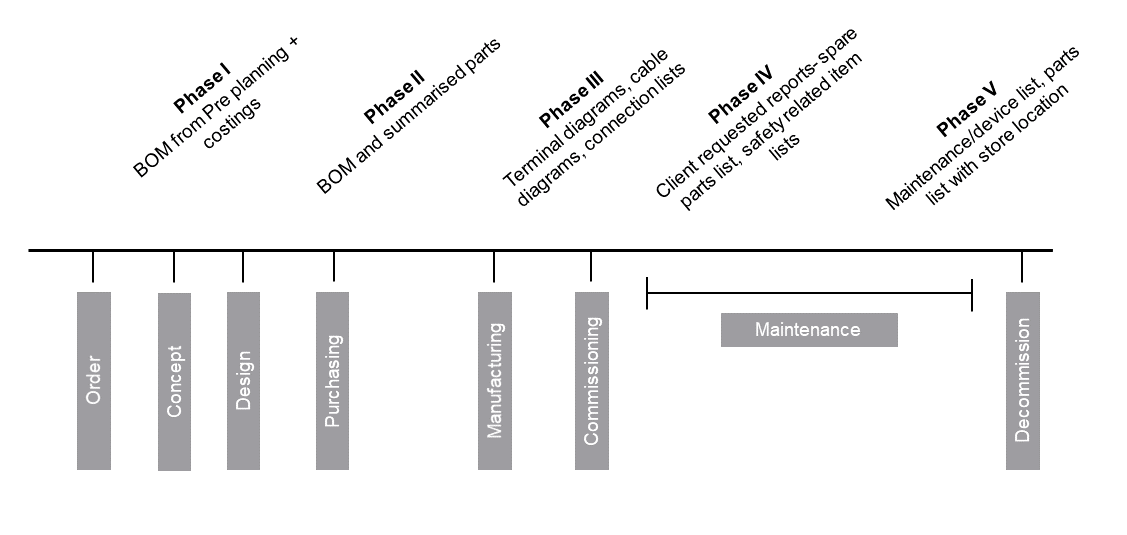 An example of five phases in the project's lifecycle where reports could be generated.
For more information on using forms, plus short demos in the EPLAN software, check out the full 25 minute webcast from our popular 'EPLAN Coffee Breaks'.