As many different parties work at different times on the documentation, it is important that changes are all tracked. Unfortunately, this doesn't always go to plan, comments on paper are not clear, work continues in the wrong version and small changes are not communicated. In short: small errors quickly creep into the documentation that have major consequences.
Small mistakes with big consequences
When an adjustment or repair has to be completed, this incorrect documentation leads to incorrect estimates, extra downtime, delays in lead times, wrong orders or extra costs. It is therefore important to make clear agreements about revision management so that documentation is always reliable. Discover below how to set up good revision management within your company.
The basis of good revision management
Thanks to revision management you can always guarantee the most current status of the documentation of a machine or installation. This helps you keep costs, turnaround times and downtimes under control.
Two aspects are very important for good revision management:
In addition, there are standards such as ISO 82045 that provide guidelines for the structuring and traceability of documentation.
A clear process
A good process is indispensable for correct documentation. In this process you determine which steps must be taken when a change is made. This is much more than simply putting a label on your documentation, this process is the first and most important step in standardising your revision management. Therefore, be sure to take the time to devise this process and record things such as:
How do you deal with changes?

Who owns the Change?

How does the feedback come back and who makes the adjustment?

What if you change the documentation, but other changes are made in the meantime?
You can solve all these and other problems with a clearly defined process.
Agreements about the documentation must also be made. For example, to keep an overview, it is wise to provide each page of the documentation with a label (such as version A, version B…) and the date. It can also be useful to work with projects or project numbers.
A good process offers you a structure in the midst of the chaos of data and different parties involved with the documentation. You can also be sure that the latest state of the documentation is fully traceable and is not up for discussion.
Because every company works in a different way, your process must always be a process tailored to you. Would you like help in devising this process? Our experienced experts will be happy to assist you in this.
The right tool
The right tool can be of great help to good revision management. The ideal tool will provide you with the ability to easily collaborate, share information, leave comments and track changes. It should also integrate with the other systems you use.
An example of such a tool is EPLAN eVIEW, an application in the cloud environment, EPLAN ePULSE. When a schematic is finished, the engineer can easily upload it to EPLAN eVIEW and give all parties involved access to the document. They can then add comments and changes. Once the engineer has received the feedback and made the adjustments, he can upload the new version back into the cloud so everyone has direct access to the most recent version.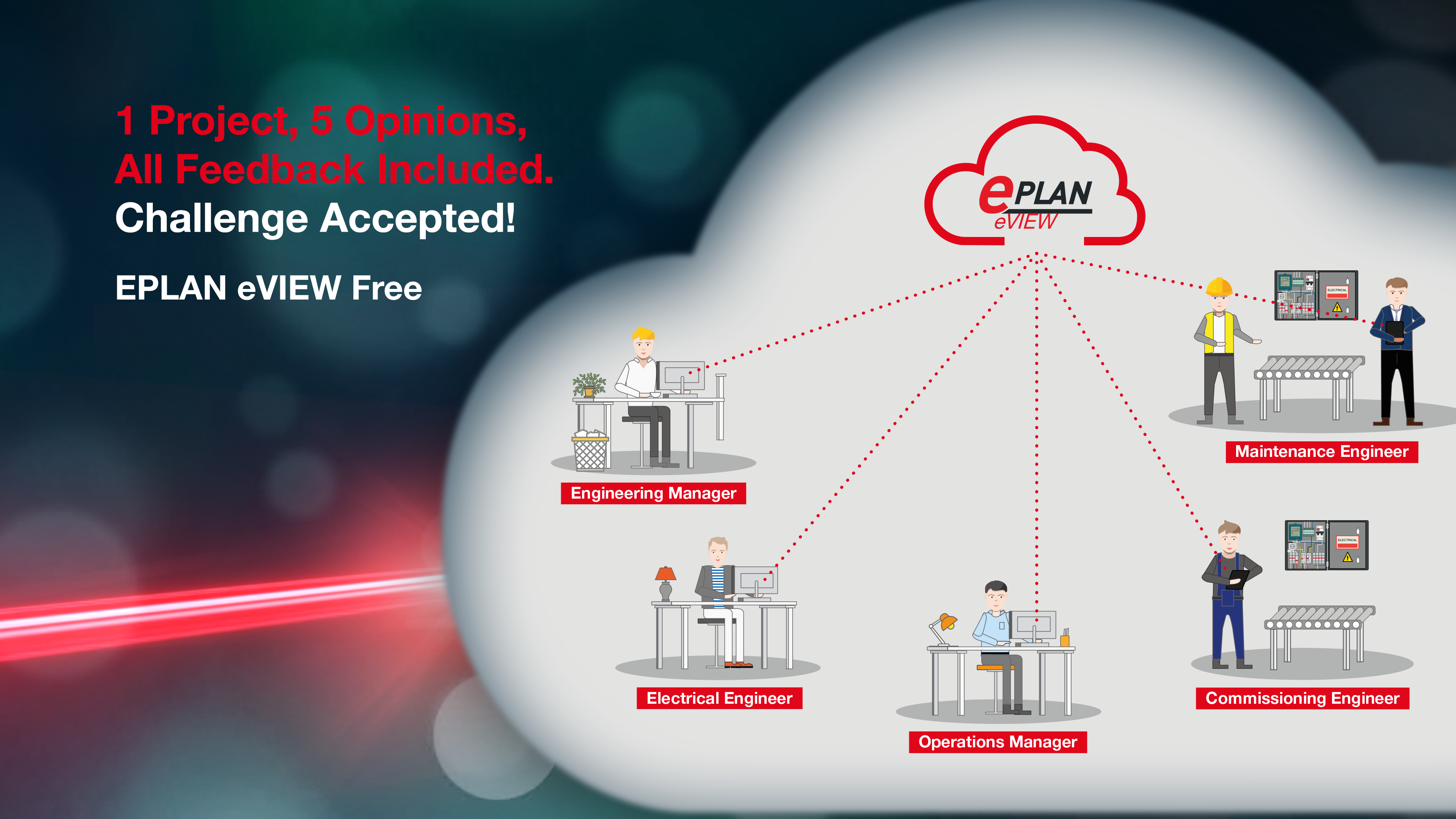 Collaborating in a cloud environment with tools such as EPLAN eVIEW has several advantages:
You have access to a project anytime, anywhere (provided you have a good internet connection).

You determine who has access to the data and what rights this user has in order to monitor the quality and safety of your documentation.

The co-operation and communication between parties improves considerably, with a positive impact on the efficiency and accuracy.

By working in the cloud, you no longer need to print documentation, so you work more sustainably.
EPLAN eVIEW can also be connected to other in-house cloud solutions.
Reap the benefits of your revision management
By focusing on a well-thought-out revision policy, supported by a powerful tool, you will soon notice that your business processes will run much more smoothly:

The machine and/or installation documentation is always up to date.
There are fewer mistakes made because there is no incorrect information included.

You no longer have to search for the correct version (in emails, correspondence and in paper), which saves you a lot of time and money.

You prevent incorrect orders that are placed on the basis of outdated documentation.
Costly machine downtime is significantly shortened because you immediately have the correct documentation and can start the repair.

Because communication takes place via a tool and there are clear agreements about who has which responsibility, therefore, stress in the workplace decreases.
Benefit from the expertise of EPLAN
Do you want to fine-tune the revision policy within your organisation? The experts from EPLAN will be happy to guide you in this. Together with you we devise a process tailored to your company or we help you with the implementation or optimisation of the right tool. Please do not hesitate to contact us for more information.