More than ever, the media is talking about the rapid conversion of energy systems and there are a multitude of ideas and strategies. However, for industrial companies whose successful core business is closely related to an economically efficient energy supply, it is becoming increasingly difficult to maintain the necessary overview.
"In order to bet on the right horse for the energy transition, the fundamental connections are particularly important," says Jan Oliver Kammesheidt, Vertical Market Manager for Energy at EPLAN. In practice, the energy expert is often confronted with a need for clarification - not only when it comes to technical decision-making, but for "recognising that transformation of energy systems in all economic sectors requires quick solutions. This is not a dream of the future, it has to be tackled now, however, has not yet arrived everywhere in practice."
Energy is a key topic. Is the conversion of the energy systems crucial for the future and therefore no alternative? Which factors and developments are decisive from your point of view?
Jan Oliver Kammesheidt: Yes, only with a sustainable and thus largely CO2-neutral energy supply can we stop the destruction of the environment and significantly slow down man-made climate change. The key factors here are the way in which we generate energy, transport it with little loss and consume it efficiently. The future lies in a decentralised energy system based on renewable energy. The decentralisation results from renewables whilst at the same time ensures shorter transport routes. However, it is also crucial that we drastically reduce the consumption of resources when building generation plants: on the one hand through durability and on the other hand through smart recycling concepts. We need to move towards a circular economy.
The decisive factor for all measures is that we also achieve our goals in an economically efficient manner and keep energy-intensive industries competitive - this is the only way to make the energy transition affordable. I think openness to technology is crucial and in my opinion the goals and developments mentioned are not mutually exclusive.
The term 'energy transition' is often used in this context – what does that mean?
The energy transition means the conversion of the energy system, which is still largely based on conventional energy generation, to a decentralised, renewable energy system. In the end, almost all of the electricity will be generated from renewable sources. However, since renewable energies usually only generate volatile electricity, we need energy storage to bring electricity demand and supply into line. The storage systems absorb excess electricity and flexibly release it again when needed. The challenge is to build up these storage capacities and to combine different storage technologies. From my personal point of view, the goal should be to get as close as possible to the 100 percent solution.
Despite all the decentralisation, we still need efficient energy networks that connect the whole of Europe. Intelligent and efficient networks or network components are therefore another decisive factor in reconciling demand and supply over a large area. In this respect, a Europe-wide network is very important.
So is energy storage one of the keys to a successful energy transition?
Absolutely. There's no energy transition without energy storage - the answer is that simple.
You already mentioned the importance of powerful networks and network components. What specific role does grid expansion play for the future of the energy system?
A crucial one: On the one hand, we still lack the capacity to immediately transfer excess wind or solar power to the major consumption centres. On the other hand, the distribution grids worldwide are increasingly reaching their limits. A successful energy turnaround also includes a traffic turnaround, and this means that the existing distribution grid in particular is subjected to extreme stress tests due to the feed-in of solar power and the increasing need for electromobility. To put it another way: there is no need to mass-produce technologically advanced cars if the road and motorway network is not designed for their use.

The industry is in a quandary, because on the one hand it needs solutions that reduce the CO² footprint, but on the other hand it has to work cost-efficiently. Machine and plant builders therefore need fast solutions that support their core business. How is that compatible?
In public, the generation of cheap electricity and electricity generation from renewable sources is often presented as a contradiction. I don't see this contradiction at all. Ultimately, you can generate electricity from renewable energies at a marginal cost rate that is close to zero. In addition, we still have enormous potential in terms of energy efficiency. Some industrial companies have already recognised the need for action and are making a virtue out of necessity by becoming power generators themselves and thus generating further added value. In this respect, two birds can be killed with one stone. On the one hand, the CO2 footprint is significantly reduced, and on the other hand, a completely new source of income has opened up or the purchase of electricity is substituted by own generation.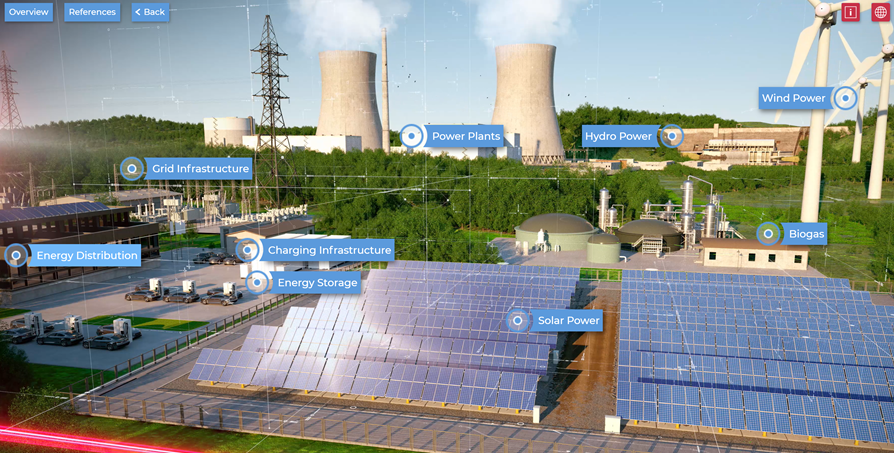 EPLAN and Rittal provide comprehensive support on all aspects of energy with advice and standardised, industry-tested and modular solutions (the image shows an excerpt of the areas in the energy sector in which support is provided). Click on the industry animation.
Reducing costs through standardisation and industrialisation and making solutions for the energy transition profitable. How and where exactly can EPLAN provide support?
Definitely. For several years we have been experiencing a development in which large, central power plants are gradually being replaced by decentralised, smaller energy generation systems. Renewable energy generation systems are all manufactured in smaller and larger series. This means that you can act on the world market with standardised and thus industrialised solutions. Standardisation and industrialisation are key EPLAN competencies that are used across all sectors. Because of this, customers can optimise their processes in the short term and make them future-proof in the long term - including seven of the ten largest wind turbine manufacturers and five of the largest solar inverter manufacturers in the world. But this development is just the beginning. Together with its sister company Rittal, EPLAN provides support with time and cost-saving design, engineering and the construction of energy systems. With the further expansion of vertical market management set up specifically for this purpose, we can support our customers in all areas of the energy industry - whether in energy generation, transmission, storage or consumption - and we want to become the market leader in this segment.
Thank you!


---
You may also be interested in these blogs: