Data is the fuel for fast project planning. It's good if data is readily available, and even better if it is standardised. But in practice, it is not simply black or white. The EPLAN Data Portal is already a great start as it contains parts data for millions of components. Nevertheless, 100% availability of device data for all items available in machine/plant construction or in automation is illusory. Previously, users have had to create missing data themselves time-consuming and sometimes expensive. But now there's a much quicker way!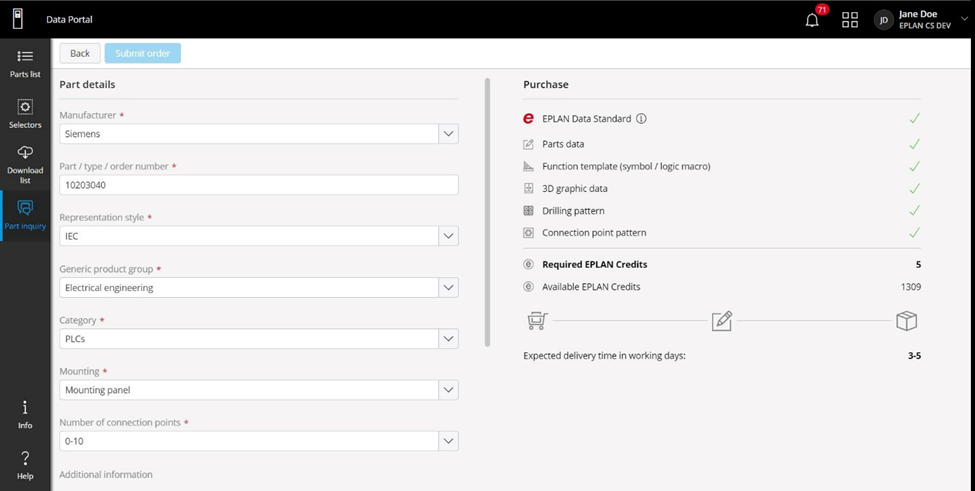 The motto used to be: do it yourself
Very practical support is now available with the Data Portal Request Process. In concrete terms, this means that EPLAN can now create parts data for its customers when it is requested. It's quick, inexpensive and you can be sure that the required standards are always taken into account.
So how does the process work? The user, we'll call him Karl, needs data for a motor and the corresponding motor protection switch. Although Karl can find a lot of data from motors and associated circuit breakers in the EPLAN Data Portal, this motor is not available as it is rarely used. It will take him far too much time to create the data himself and the project deadline is fast approaching.
Today the rule is: Let EPLAN the parts data
Instead of creating the data himself, Karl purchases a credit package and requests the device data from EPLAN. As he makes a request, the required credits are displayed. When taking into consideration the time it would take him to create the data, he immediately notices that it is a cheaper option and therefore with a click orders the required data. He can keep an eye on the quota of available credits and thus his costs. Once the request is received by EPLAN, the team of specialists take care of the parts data for Karl's motor. After only taking the team a few days to complete, Karl now has the complete data that corresponds to standards.
"With the new Data Portal Request Process, we provide our customers with maximum support in creating digital product data that is as complete as possible. This gives them more time for the really value-adding tasks in engineering".
Josefine Heck, Business Owner Master Data
Data Standard: Data from new product groups
There are currently more than 600,000 items of data in the EPLAN Data Portal that already meet the high-quality data standard. "And of course we want to roll out the standard more widely," adds Timm Hauschke, Head of Master Data. Steps are already being taken to make this happen. For example, further product groups in the field of fluid technology have been integrated. Festo, as one of the most important providers in the fluid sector, has already stored a quarter of its almost 50,000 component data in the portal according to the data standard. EPLAN users benefit from this comprehensive data and further enrich it throughout the engineering process.
ABB & Siemens: New selectors in the EPLAN Data Portal
ABB e-Configure - a worldwide configurator that supports the selection of, for example, motor protection switches, fuse relays or circuit breakers - has recently been integrated. The Siemens Electrical Product Finder is now also part of the EPLAN Data Portal. Here designers can find data on Sirius circuit breakers, overload relays or current monitors, to name just a few.
Do you want to find out more? You can find further information here.
You might also be interested in these articles:
Guided installation: Get started faster with the EPLAN platform
Software and service from a single source: 100,000 registrations on EPLAN.com
Digital collaboration: voices from practice for consistent data